"WE CAN'T ALL BE SAINTS"
PAGE TWO
"I'm not guilty of everything they have against me."
... Uncle Johnnie
JOHN DILLINGER - APRIL 1934 Mooresville
(Photo Colorization and effects by Kimberly Stewart)
John Dillinger took an oath that he wouldn't forget about his pals in prison once he was released. Pierpont even gave Dillinger a list of banks to rob to finance a break from Michigan City Penitentiary. He would soon become a professional bank robber and many robberies would follow.
June 10, 1933,

Robbery of the New Carlisle Bank, in Ohio.

Amount stolen: $10,600

July 17, 1933

, Robbery of the Commercial Bank of Daleville, Indiana. Amount stolen: $3,500

August 4, 1933

, Robbery of Montpelier National Bank of Montpelier, Indiana. Amount: $6,700

August 14, 1933

, Robbery of Bluffton Bank, Bluffton, Ohio.

Amount: $6,000

September 6, 1933,

Robbery of Massachusetts Avenue State Bank,

Indianapolis, Indiana. Amount: $21,000
Dillinger robbed with Harry Pierpont, Charley Makley, Russell Clark, John Hamilton, Harry Copeland
October 23, 1933,

Robbery of Central National Bank and Trust Company, at 24 W. Washington Street, Greencastle, Indiana. Amount: $75,346

November 20, 1933, Robbery of American Bank and Trust Company, Racine, Wisconsin. Amount: $28,000

December 13, 1933, Robbery of Unity Trust and Savings Bank, Chicago, Illinois. Amount: $8,700

January 15, 1934, Robbery of First National Bank, East Chicago, Indiana. Amount: $20,000. (From the evidence, Dillinger couldn't have participated in this robbery)

Banks Dillinger robbed with Baby Face Nelson , Eddie Green and Homer Van Meter
March 6, 1934, Robbery of Securities National Bank and Trust Company, Sioux Falls, South Dakota. Amount: $49,500.

March 13, 1934, Robbery of First National Bank, Mason City, Iowa. Amount: $52,000

June 30, 1934,

Robbery of Merchants National Bank, at 229.S. Michigan Street, South Bend, Indiana. Amount: $29,890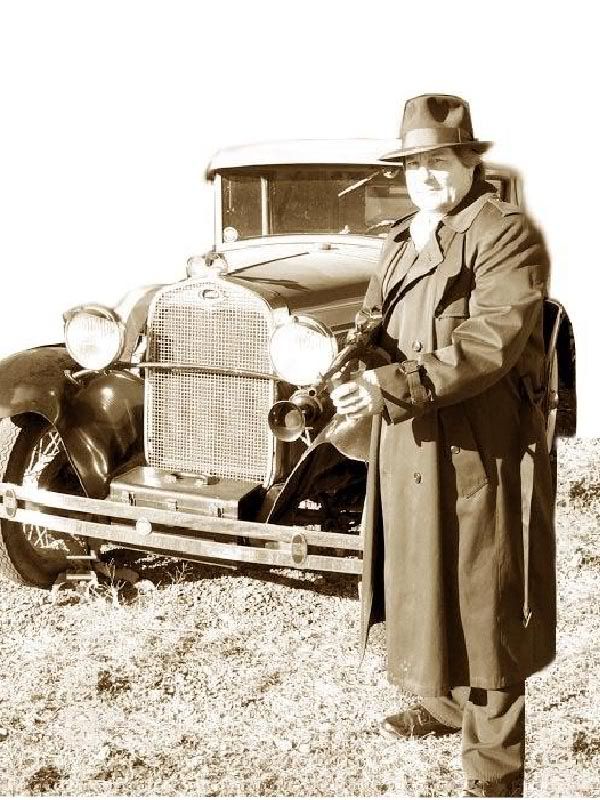 MICHIGAN CITY INDIANA PENITENTIARY
John Dillinger robbed enough banks to finance a break and free his pals out of Michigan City State Penitentiary.

In his first attempt he threw three guns in a bag over the wall into the prison yard, but a convict found the guns and gave them to the guards. Prison officials suspected Danny McGeoghegan, a Chicago bootlegger and gangster serving a life sentence for an unsuccessful robbery, which left one robber dead and five captured. McGeoghegan was considered the fourth worst gangster in Chicago with a long criminal record, but he had no connections with Dillinger.
Next, Dillinger drove to Chicago and picked up three more guns from an unknown source and headed for Indianapolis. He turned the guns over to another accomplice, who took them to a nearby factory and bribed an employee to open up a thread box addressed to Michigan City Prison. Three guns were placed inside the box and sealed shut. On the outside of the box was marked with an "X" as a signal to inmate Walter Dietrich, who would then notify Pierpont. Dietrich's role was crucial to the plan; he would be the key to the success of the break.
Prison guards never rushed to inspect supplies delivered to Michigan City because they trusted Walter Dietrich, which would prove to be a great mistake. After everything was set for the break, Dillinger headed back to Ohio visit Mary Longnaker.
He hadn't seen Mary in sometime and was looking forward to the visit. In Dillinger's absence Mary had been seeing another man who asked her to marry him. To add to the dilemma, Detectives were waiting on a phone call from the landlady of the boarding house where Mary was staying. The landlady, Mrs. Stricker had identified Dillinger from photographs and agreed to call Detectives as soon as he showed his face. On September 22, Mrs. Stricker spotted Dillinger entering Mary's room.
She made a call around 1:30 a.m., and Detectives soon had the building surrounded. Two detectives entered the building, one armed with a machinegun and the other with a shotgun. Mrs. Stricker led the Detectives to the apartment, she knocked at the door and Mary answered. As she opened the door the two Detectives spotted the well-dressed Dillinger in the room looking at pictures. The Detectives ordered him to raise her hands and Dillinger reluctantly obeyed. H
e was arrested and taken to the Dayton, Ohio jail, where the he was placed under heavy guard.
SEPTEMBER 26, 1933
Just four days after his arrest, on September 26, at 1:30 p.m., ten men came crashing out of Michigan City. This was the biggest jailbreak ever in the State of Indiana to this day.
The ten escapees were Harry Pierpont, Charlie Makley, Russell Clark, John Hamilton, Walter Dietrich, Edward Shouse, John Burns, Joseph Fox, Jim Jenkins, and James Clark. The break began when Walter Dietrich located the box of thread with the "X" on it.. Dietrich removed the three guns with three extra clips and hid them in a box of buttons. On the day of the break the guns were then given to Pierpont, Makley, and Hamilton.

Mr. G.H. Stevens was the first guard to be taken at gunpoint by John Hamilton. Hamilton informed Stevens, "Were going home and you've been elected to lead us out." The next guard to fall into the trap was Captain Albert Evans. Dietrich summoned Evans to the prison storeroom and as he entered Pierpont stuck a gun in his stomach.
Pierpont told the guard, "Your going to do what ever we tell you, if you try anything your dead where you stand." Another guard approached the storeroom and was quickly tied up. The outlaws told Steven's and Evan's to hold out their arms and shirts were placed across them. The outlaws also placed shirts over their own arms, hiding guns beneath them. Ten convicts and two guards walked across the prison yard to the guardhouse. This was a normal sight to see guards and prisoners carrying shirts across the yard so there was no reason for guards to become suspicious. As they arrived at the guardhouse Frank Swanson unlocked the door and opened it.
Swanson later recalled that one of the outlaws pointed a gun at him. The outlaws made their way through several locked doors to the main gate, and walked to the Administration building. Pierpont seized the Warden and several other hostages as shields in case of trouble and headed the front door. Sheriff Charles Neal was one of the hostages taken by the outlaws.
Outside in the rain, the ten convicts found Sheriff Neal's car and several piled in. Another car was stolen from the gas station on the corner. Three guards were reported injured during the escape. F.B. Carson was shot in the leg, Fred Wellmitz was hit over the head with a crow bar, and Guy Berthlow suffered from cuts on his face and head. Sheriff Neal was presumed dead by prison officials, but he would later released.
Authorities of two states sent out an alert to be on the lookout for the ten convicts, who escaped the Indiana State Penitentiary. Roadblocks were set up on Indiana and Chicago borders as well as surrounding communities. Reports came pouring in with several sightings of the outlaws in different locations.
After everything was set for the break, Dillinger headed back to Ohio visit Mary Longnaker. He hadn't seen Mary in some time and was looking forward to the visit. In Dillinger's absence, Mary had been seeing another man who asked her to marry him. To add to the dilemma, Dayton detectives were waiting on a phone call from the landlady of Mary's apartment to put Dillinger on the spot.
The landlady, Mrs. Stricker had identified Dillinger from photographs and agreed to call detectives as soon as he showed his face.
Harry Copeland rented a house in Hamilton, Ohio, which was close to Lima, Ohio. Preparations of the plan was beginning to take form, but was still in the early stages. A Super Gang of bank robbers was near birth, and Pierpont looked the part as the noble leader. Actually the title of leader never existed in the gang, but things would change after they busted Dillinger out of the Lima jail.
From that day on newspapers would call the outlaws the "Dillinger gang." Meanwhile, on September 28, just two days after the Michigan City break, James Clark was recaptured in Hammond, Indiana. The fleeing band of outlaws dropped James Clark off along with Sheriff Neal near McCook, Indiana. Clark was feeling really ill, but the two continued on foot into the town of Gary, Indiana where Clark released Neal. A short time later, Clark appeared in Hammond, Indiana. He decided to take a taxi, but the driver recognized him from newspaper photographs and called the police.
Clark was so ill that he put up no resistance; he was arrested and returned to Michigan City. As the outlaws drove towards Hamilton, Ohio they soon encountered a roadblock by the Indiana State Police.
Shots were fired, and the outlaws barely escaped the incident. During the escape, Jenkins fell out the car and was left behind. Jenkins soon hijacked a car and took the owner hostage. The hostage was a young man from Indianapolis named Mr. Lyle. After driving several miles, Lyle tricked Jenkins by telling him the car was out of gas. Jenkins went to the back of the car to check the gas, and Lyle quickly started the car and drove off leaving the outlaw stranded in Brown County, Indiana.
Just before sundown, he made his way to Georgetown, also known as Richland Bean Blossom, Indiana. Along the way Jenkins stopped at the home of Alva Shrock and asked her if he could get a drink of water. Shrock obliged the outlaw with a cool drink; he thanked her, and continued on his way. He spotted three men armed with shotguns and revolvers standing around suspiciously looking in his direction. These men were vigilantes and they immediately took noticed of the stranger in town.
The three men, Ivan Bond, William Alltop, and Herbert McDonald were well aware of the Michigan City break, it had been broadcasted all over the radio. They curiously approached Jenkins to question him; he told the men that he just wanted to get a drink and some auto parts for his car. The three men told Jenkins that they would be glad to help, but first wanted to know who he was and what was his business. Alltop confronted Jenkins and said, "Listen, Buddy, we'd better have an investigation about what you're doing here." At the same moment a car drove up with more armed men. As one of the men began to open the car door, he said, "We'd better feel him down, boys."
Jenkins then drew a snub-nosed .38 caliber revolver from his belt and cried out, "Stay in there, you." Following his remark, the trapped outlaw fired the weapon hitting Herbert McDonald in the right arm near his shoulder and began to run down an alley. Benjamin Kanter, a local farmer had stepped out of his house onto his porch, where he had been observing the commotion.
Kanter was carrying a 20-gauge double-barrel shotgun; he took aim and opened fire on Jenkins as he ran. The blast ripped part of the outlaw's scalp off his head, and he fell to the ground mortally wounded. Sheriff Fremont Weddle of Brown County took him to Dr. D.R.Crabtre of Nashville.
The outlaw died shortly afterwards from his wounds. This was big news in the small Hoosier town of Richland Bean Blossom. Jenkins, the twenty-five-year-old outlaw attracted an astonishing amount of tourists. Thousands of curious people began showing up to catch a glimpse of the outlaw. Jenkins had been serving a life sentence in Michigan City for murder. Jenkins' father, George Jenkins, a rural minister had his son's body moved to his home near Bedford, Indiana. The crowds of the curious had grown to over five thousand, arriving from the surrounding counties. Jenkins was more popular dead than he ever was alive.
Meanwhile the search for the other escaped convicts continued.
On October 4, he wrote a letter to his niece, Mary, and seemed to be in high spirits. In this letter he joked a bit and mentioned his trial would be the following week. He told Mary that he was only allowed visitors Wednesday, but Sheriff Sarber might allow a visit on Sunday. Dillinger wanted his niece to visit him before he was transferred to the Columbus, Ohio jail. Dillinger also talked about his plans prior to his arrest; he intended on traveling around to see all the World Series games. He told his niece not to worry about him, because he would be fine. In Dillinger's letter, he sounded confident he would be found not guilty of the charges against him. This was Dillinger's way of relieving the pressures at home, so his family wouldn't worry, but he knew what the outcome would be.
He had already confessed to the robbery of the Bluffton bank, while in the Dayton jail. Deep inside Dillinger knew he was going back to prison, unless his pal Harry Pierpont intervened, which he felt very strongly would be the case. Dillinger was also identified as one of the men involved in the Massachusetts Avenue Bank robbery in Indiana. He appeared to be getting along really well with Sheriff Sarber at the Lima, Ohio jail. He felt certain that the Sheriff would allow a visit from his niece on the following Sunday, even though regular visiting hours was on Wednesday. Sheriff Sarber seemed to be a fair man, and treated his prisoners well. Dillinger played the role of a model prisoner at the Allen County jail in Lima, and didn't cause any problems.
Throughout his career Dillinger often showed affection towards those who treated him with kindness. He made no indication or attempts of escaping the jail. Dillinger felt confident that Pierpont would attempt to free him from Lima, but time was of the essence. Dillinger was going to be transferred to the Columbus Ohio jail in a couple of weeks. The Pinkerton's Detective Agency had also been secretly following Dillinger's trail for Captain Matt Leach of the Indiana State police. This is the very same Pinkerton Agency that followed the trail of Jesse James and the Younger Brothers in the eighteen hundreds. The James' and Younger brothers made the Pinkerton's famous, as Dillinger would the FBI.
Just after the Michigan City break, the Pinkerton's put two and two together, and came to the conclusion that the escaped convicts may attempt to free Dillinger out of the Lima jail. Both the Pinkerton's, and Matt Leach quickly contacted Sheriff Sarber, who had been previously warned by Dayton Police. Again, Sheriff Sarber conveyed disbelief that a small time criminal could transpire a rescue attempt of such magnetism. The fact that Sarber did not believe Dillinger could devise a big jailbreak, and may be liberated from the Lima jail would be a fatal error, which would cost him his life.
On September 27, the day after the Michigan City break, Leach publicly attacked Ohio officials in the newspapers. He blamed Ohio officers for not reacting, after learning that two important letters were found in Mary Longnaker's procession. One letter was from Dillinger assuring Longnaker that he would help to free her brother James Jenkins from Michigan City. Another letter was believed by officials to have been written by James Jenkins.

It contained a coded unsigned message outlining an escape plan. Leach was a man who had many contacts, and had lots of informants working for him. During his days, Leach would become obsessed with getting Dillinger. John Dillinger would later repay Leach by constantly tormenting him.
There were reports that Dillinger called Leach on the telephone and told him, "You'd better watch your ass!" Leach reacted by dropping the phone and began shuttering severely. Leach had gathered new clues from a convict in Michigan City, who demanded his name be kept quiet. The convict conferred with Leach and Sheriff Neil Fry of Porter County. He told the officers of a hideout where the escaped convicts may be hiding. Acting upon this tip, the State Police located a shack, just north of Chesterton.
They surrounded the shack armed with tear gas bombs and machineguns, but the men had already fled. Another report spotted two men near Walkerton, Indiana hitching a ride on a freight train.
While the report was being checked out, another report claimed that convicts were spotted in Chicago. A general alarm was issued; over five hundred National Guardsmen joined the search under command of Colonel Frank Gray of Gary, Indiana. An airplane flew over the last area where the outlaws had believed to be hiding. The airman reported that there was no sign of the outlaws.
JOHN HAMILTON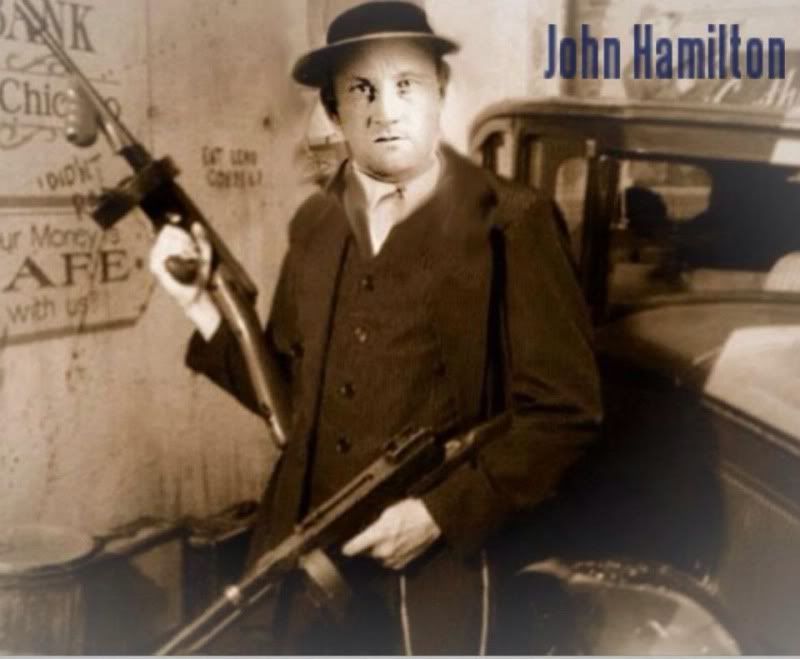 Sheriff J. Lester Bender of Martinsville, Indiana received a report that John Hamilton had been seen in the city in a sedan with four other men and a woman. The call was made from a man who had testified at Hamilton's trial in St. Joseph County, and helped to sentence him to twenty-five years for auto banditry and robbery. Bender and his deputies searched roads to the North of the city, but were unsuccessful in securing any trace of the fugitives. Meanwhile Pierpont, Makley, and the rest of the gang were busy making plans to break Dillinger out the Allen County jail. Before they could spring Dillinger, they would need funds to provide a new hideout, transportation, food, clothes, guns, and other expenses.
The gang decided to rob the First National Bank of St. Mary's, Ohio. Makley had chosen the bank because it was located in his hometown, and he knew the layout.
Makley also knew a man named W.O. Smith, who was familiar with the banks day-to-day activities. On October 3, a big sedan rolled to a stop and parked in front of the St. Mary's bank. Inside the bank the clock was ticking just minutes before 3 p.m., near closing time. Inside the sedan were five men, Pierpont, Makley, John Hamilton, Russell Clark, and Ed Shouse. Makley hadn't been home in years; but he had prior inside information that the bank was about to re-open their doors in just a matter of weeks. The Federal government had just transferred a large amount of money to St. Mary's the day the gang would hit the bank. The facts clearly state that four men proceeded to the bank, leaving one man to watch the car.
One man stood by the bank entrance as a lookout, while the other three men entered the bank. Bank tellers were just finishing up with the last few customers.
Pierpont walked up to one of the teller windows acting as though he was reading a road map. Teller, Roland Clausing thought perhaps Pierpont was lost, and needed some directions. As Clausing approached Pierpont, the outlaw lowered the map revealing a .45 automatic. Pierpont told Clausing to just stand still and not to move an inch. Makley soon appeared with a gun in his hand and held Clausing at bay, while Pierpont went behind the teller cages.
At this precise moment, Assistant Treasurer W. Clarence Young of the Union Building and Loan Company, and W.L. Noggle, a local hotel owner was approaching the bank. While in route to the bank they walked past a policeman standing close to the bandit's car, and gave him a friendly hello. Pierpont and Makley had spotted the two men approaching the bank and were ready. Makley quickly took position next to the front door, where he wouldn't be seen, while Pierpont ducked down behind Clausing and waited. The men walked past the outlaw lookout at the front door and strolled into the bank. Once inside, they saw nothing that looked out of the ordinary.
Clausing was sitting at the teller window as though he was waiting to help them. As they moved towards the teller's window, Makley stepped up behind them, and Pierpont suddenly appeared from behind Clausing with his gun in his hand.
The third bandit presumably Hamilton, herded Noggle, Young, three other employees and another customer to the director's room for same keeping. Makley began emptying the cashier drawers, while Pierpont ordered employees to open the vault. There was one problem; the employees told Pierpont that the only person who could open the vault was Mr. Smith, who wasn't present. Smith was hired as a conservator, to protect the bank against outlaws. Pierpont became angry and impatience. Just as he was about to blow his top, Smith came walking through the front doors to get some last minute paper work.
Smith claimed the vault was on a time lock and couldn't be opened, but as he was talking the time lock happened to click off. Pierpont quickly unloaded the vault, then ordered everyone into the vault. The outlaws left the vault door open, but warned everyone not to move until the gang was gone or they would blast the building with machinegun fire. The group of people agreed to the terms fearing that they would be shot. The outlaws walked quietly to their awaiting car without arousing any suspicion and drove off. Moments later the banks alarm rang out. Directly across the street, several baseball fans were busy listening to the World Series on the radio, and never even noticed the robbers. Newspapers stated that the bandit's were professional's and escaped with $14,000 in cash, but the real amount was closer to $11,000.
The difference of $3,000 was probably used to cover bank errors, and simply blamed on the robbers. The robbery only lasted a matter of minutes, and everything went smoothly, no one was hurt and no shots were fired. The gang now had plenty of money to spring Dillinger from Lima. $11,000 in 1933, is closely equal to sum of $125,000 now days. The bank loot was divided by the five men, which came to $2,200 apiece. Not bad for a few minutes work without firing a shot, but bank robbery was a hazardous occupation. Everything could be going smooth one minute and the next minute all hell could break loose. Not long after the St. Mary's robbery, the gang traveled to Lima to case the jailhouse where Dillinger was being housed. Next they picked up Mary Kinder who was waiting in a car just outside of town.
They proceeded to the nearby home of Fred Pierpont (Harry Pierpont's brother), to spend the night. Fred lived on a farm near Leipsic, Ohio. The plan was to get Mary Kinder a visit with Dillinger by posing as his sister. Once inside, she would let Dillinger know that the boys were coming, and take notes of the jail's layout.
The problem was that Dillinger wasn't allowed any more visitors. He had received one visit from Pearl Elliot, who was a trusted friend by the gang at the time. Dillinger told her to inform the gang to try to locate a woman named Billie Frechette. Frechette would soon become Dillinger's most loyal girlfriend of his career. On the afternoon of October 12, Pierpont and Russell Clark paid a visit to a local attorney named Chester M. Cable to make arrangements for Mary Kinder to visit Dillinger.
Cable was suspicious of the men, the minute they entered his office. The men explained that Dillinger's sister had some very urgent news to discuss with her brother, and had to see him as soon as possible. Cable offered to do what he could, but he explained that Dillinger's fingerprints were found at the Bluffton bank robbery and it didn't look good.
He said it was too late to contact the jail tonight, but he would call in the morning. The outlaws politely thanked Cable for his time, and agreed to meet with him the following day. After they departed, Cable called Sheriff Sarber to warn him of the suspicious visitors, but Sarber wrote it off believing that Dillinger's sister just wanted to visit. Besides, Sarber knew that Dillinger had just written home requesting a visit from his family. Sarber's biggest mistake was his error of judgment, which would later cost him his life. After the visit with Cable, Pierpont became worried that the lawyer would tip off the jail, and he was right. Pierpont decided not to delay Dillinger's liberation, it was now or never. Pierpont was a clever man, his instincts told him that something wasn't right and they needed to act now. Pierpont was also lucky because Sheriff Sarber's years of experience was working against him. Sarber had been repeatedly warned about Dillinger, but relied more on his gut feeling about the outlaw. The facts were right in front of the Sheriff's face, but he just couldn't see it.
LIMA, OHIO October 12, 1933
On October 12, Columbus Day the town seemed quiet and peaceful. Sheriff Sarber sat at his desk, and answered a few telephone calls in the morning. He took one prisoner to the dentist to have a tooth pulled, and fed the prisoners when he returned. Around 6:25 p.m., the outlaws drove up and parked in front of the jailhouse. Mrs. Sarber had just finished washing the dinner dishes, and was working on a jigsaw puzzle. Sarber was sitting at his desk reading the newspaper. Deputy Sheriff Wilbur Sharp was sitting on the sofa playing with Brownie, the Sheriff's dog. Dillinger was playing a game of pinochle with other cellmates. Suddenly three men came walking through the front door, and Harry Pierpont was leading the way. Sarber looked up at the men and asked what the gentlemen wanted? Pierpont responded by saying they were officials from Michigan City Prison, and needed to speak to a prisoner John Dillinger. Sarber told them that he would have to see some credentials. Pierpont reached in his coat, pulled out a .38 revolver, and said, "These are our credentials." Sarber reacted by reaching for his gun in the desk drawer, and saying, "Oh, you can't do that!" As he reached for the gun, Pierpont shot at him twice. Sarber fell backwards in his chair and hit the floor. One of the bullets missed Sarber, but the other lodged in his abdomen, tearing an artery. Pierpont then demanded the keys, and when he got no response, he hit Sarber in the head with the butt of his gun. Makley hit the Sheriff a second time, and Mrs. Sarber screamed out for them to stop. She volunteered to get the keys. Pierpont followed Mrs. Sarber and retrieved the keys, while Makley and the third outlaw watched Deputy Sharp.
There were two sets of steel bar doors leading to the cellblock where the prisoners were kept. Pierpont successfully unlocked the first door, but had troubles opening the second door. He ordered Deputy Sharp to open the door. Dillinger was playing pinochle with prisoner Art Miller, when he heard the shots fired. Pierpont entered the cellblock, and handed Dillinger Sheriff Sarber's gun. Pierpont then fired a shot into the cellblocks and yelled, "You other bastards get back, and we came for John." Before leaving, Dillinger asked Miller if he wanted to go, but Miller, who was facing second-degree murder charges, declined. The two shook hands and Dillinger said, "Goodbye and good luck." The outlaw walked from his cell to see Sarber lying on the floor bleeding. It was reported that Dillinger kneeled down next the Sheriff, and then asked Pierpont, "Did you like to do this?" Sarber turned to his side and said, "Mother, I believe I am going to have to go." Pierpont locked deputy Sharp and Mrs. Sarber behind the double barred doors, regardless of her plea's to stay with her husband. The gang headed out the door, jumped into a nearby automobile and disappeared.
An off duty policeman named William Houtz, had seen Pierpont leaving the jailhouse, but thought he was just a visitor. A teenager named Lowell Cheney heard shots fired and ran towards the jailhouse. In route to the jail, he ran right past Dillinger and the other gang members. When he reached the jailhouse he asked, "What's going on?" Sharp replied, the Sheriff has been shot. Cheney had to run to a nearby telephone to call for an ambulance, because the bandits had disabled the telephone lines before they fled. Sarber was rushed to the Lima Memorial hospital, where he died 90 minutes after the shooting incident occurred. Before Sarber died, he told his son, Deputy Don Sarber, that the outlaws were all big men. A welding torch had to be used to free Mrs. Sarber and Deputy Sharp, since Pierpont had taken the only set of keys. The killing outraged the peaceful town of Lima, and several poses set out to find the killers with little success.
The gang had headed southward to Cincinnati, about 140 miles away from Lima, where they picked up Mary Kinder. Around midnight, police raided the nearby Pierpont farm, finding a new car parked in the barn with a full tank of gasoline. Upon further investigation, officers discovered that Harry Copeland had purchased the car in Detroit, Michigan, and it may have been used in the St. Mary's robbery. Police questioned Pierpont's parents and his brother Fred, and learned that Harry Pierpont had given the car to his brother as a present. The officers arrested Fred Pierpont, after he admitted that his brother and some friends had stayed the night. He also admitted that some these men were escapees of the Michigan City prison.
7ony Stewart, Author
FAVORITE LINKS